You are here
FIFAfrica17: Register today!
FIFAfrica17: Register today!
Submitted by olga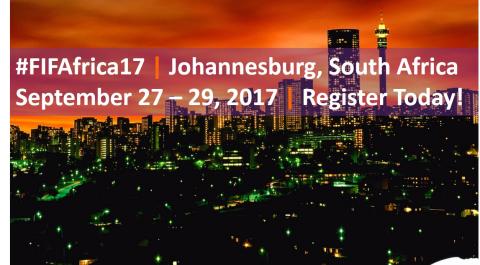 It is closing in yet again on that time of the year when we convene to explore the many aspects of online rights at the Forum on Internet Freedom in Africa (FIFAfrica). Between September 27 and 29, 2017 we converge in Johannesburg, South Africa, to share ideas, experiences and insights as we continue to build the movement for #InternetFreedomAfrica!
Register and join those who already have set their sights on joining us at #FIFAfrica17 as we continue to advocate for an internet that is free, secure and open. We have received many session proposals and suggestions but are still open to receiving a few more. As you register, you are still welcome to add your suggestion - we'll try our best to find a way of addressing the topics you raise. Successful session proposals will be listed on the Forum webpage on August 10, 2017.
Travel support
Last year we received over 400 highly competitive applications for travel support, of which one-fifth of the applicants were successful and went on to actively contribute to the forum including by moderating sessions, participating in panel discussions and rapporteuring. Our vision is to have a Forum with representation from as many countries in Africa as possible. As part of the registration process, we make room for interested participants to submit an application for travel support.
Exhibit at #FIFAfrica17
Participation in the Forum takes various forms. Some want to talk, others want to listen and some want to show what they do. We are expanding exhibition space at the Forum and are thus inviting proposals from individuals, organisations and companies who wish to showcase their work, projects and products at #FIFAfrica17. The exhibition opportunity is free but we encourage a voluntary contribution to enable us ensure that the #FIFAfrica17 experience is as insightful as it is memorable. Please follow this link http://bit.ly/2fm8GCa and let us know your exhibition idea.
#FIFAfrica17 is co-hosted by the Association for Progressive Communications (APC) and the Collaboration on International ICT Policy for East and Southern Africa (CIPESA).
Event date:
Wednesday, September 27, 2017 - 08:00

to

Friday, September 29, 2017 - 17:00